Travel
Faro airport is only 45 minutes drive on the motorway from both villas but Lisbon and Seville airports are also posibilities both being approx a 2 hour drive on the motorway.
The following airlines fly regularly to Faro:
In almost all cases, flights are cheaper by as much as 30% off when not travelling on a Friday or Saturday with the most inexpensive in the week being Monday. Hence our preferred change over days. However, outside of late July and August, we are quite happy to be flexible on any day.
Car rentals
Most airlines also offer car rental when booking flights. Nearly all of the major international car rental companies have a presence at the airports. Booking is highly recommended in advance of your arrival.
We have arranged a guest discount with Rhino Car Hire, details included on booking confirmation or please ask us prior to booking and we can provide you with a direct link to the discount;
Faro Airport has offices for at least the following:
Local amenities
Beaches/Restaurants/Shopping/Culture/Activities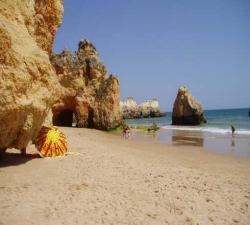 Alvor's blue flag beach is amazingly picturesque; loved by both locals and visitors due to its calm waters and soft extensive golden sand.
There is a recently built a boardwalk at Alvor extending nearly the whole 2 mile length of the beach which makes it very accessible for wheelchair users, children in buggies and is popular with bird watchers and joggers.
It's the closest beach at only 10 mins drive away.
There are many other fantastic beaches in the Algarve including Praia do Armado which is world-renowned for surfing.
Don't forget to ask the villa manager for the James Bond beach, a local beach, which is accessed only by a lift built into the cliff. One follows a path into a cave which wends it's way to the lift and after leaving the lift, you come out at the back of a restaurant overlooking the beach!
Alvor also has the best of both worlds; whether you choose the beach, busy streets with rich night life or it's history rooted around it's fishing heritage.
Alvor also has an amazing variety of restaurants, each of which caters to a plethora of tastes and budgets.
There are numerous other towns and villages; each with their own charm. We particularly like Lagos with it's historic but vibrant streets and fantastic restaurants some of which are Michelin starred, Portimao with it's urban industry, fresh sardine cafes at the fishing port and nightlife at the Casino and Silves with it's dominating castle.
The cultural cities of Lisbon and Seville are within easy reach; experience their history, ambiance and architecture dating back centuries.
Shopaholics can indulge at the recently opened 175 outlet shopping centre in Portimao or the upmarket shopping centre, Algarve shopping just off the main motorway. Bargain hunters could head to the weekly gypsy markets.

Zoomarine is approx 30 mins drive away. We would highly recommend swimming with the dolphins!
A family holiday would not be complete without a visit to one of the two giant water theme parks, Slide & Splash or Aqualand.
Those with lots of energy can find the local tennis courts and gym in Alvor. Alternatively, for motorsport fans, there is the track at Portimao with racing events through the year.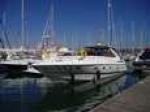 Water-sports and water activities naturally dominate the Algarve with everything from pirate boat trips, scuba diving, sailing, kite-surfing, kayaking, water-skiing, sea fishing, dolphin safari and much more. Access to those water-sports can be found easily and not just at the chic marinas of Vilamoura or Lagos.